MNBL COMMISSIONER
Ken Mazonson
31 Years Strong !!!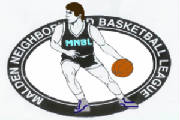 On this page you will find out the up-to-date news & info about the 31st Season in the MNBL. also you can view your favorite Team(s) & Player(s) stats throughout the year. Also the History of the Malden Neighborhood Basketball League is available. "see the history link"



Season 31

It's All Over - The Kings have been Crowned Champions of 2016
CONGRATULATIONS :
2016 MNBL All Stars
*Bullets – Don Michel *Celtics – Peterson Glaude, Isiah Pierre, Robert Green *Hawks – Princeton Mathurin, Thomas Hannifan *Kings – Marcos Sequeira, Gutemberg Santos *Lakers – Steven Morales *Pistons – Paul Paulin, Edson Rodriguez *Sixers – Joshua Montiero, Danley Exilhomme *Sonics – John Nash, Chris Belfleur
3 Point Champion 2016
Matt Geer of the Sonics
Hot Shot Champion 2016
Princeton Mathurin of the Hawks
You can donate to the League at anytime by just clicking our Paypal/Donate Link below. Thank You
The New Online Store
You can now go shopping online And also help raise funds for the League ~ Just "Click the Link Below" and a portion of your purchase will go directly to the MNBL
You Can now make Purchases & Donations through our New PayPal Account

Check out the MNBL Alumni page on Facebook.Com !
Order Your Favorite MNBL Team Sportswear !

Click Team Link below.
To order your MNBL Bullets Team Sportswear
Click Link Below :
To order your MNBL Celtics Team Sportswear
Click Link Below :
To order your MNBL Hawks Team Sportswear
Click Link Below:
To order your MNBL Kings Team Sportswear
Click Link Below :
To order your MNBL Lakers Team Sportswear
Click Link Below :
To order your MNBL Pistons Team Sportswear
Click Link Below :
To order your MNBL Sixers Team Sportswear
Click Link Below :
To order your MNBL Sonics Team Sportswear
Click Link Below :
To order your Malden Neighborhood Basketball League Sportswear