30 Years Strong !!!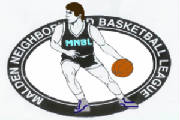 Season #30

BEGINS !

The Jamboree will be on Sunday, December 28, 2014

at the Ferryway School

Hawks vs. Lakers at 1:00 P.M.

Bullets vs. Celtics at 2:00 P.M.

Pistons vs. Kings at 3:00 P.M.

Sixers vs. Sonics at 4:00 P.M.
On this page you will find out the up-to-date news & info about the 29th Season in the MNBL. also you can view your favorite Team(s) & Player(s) stats throughout the year. Also the History of the Malden Neighborhood Basketball League is available. "see the history link"
You can donate to the League at anytime by just clicking our Paypal/Donate Link below. Thank You
MNBL COMMISSIONER
Ken Mazonson
You Can now make Purchases & Donations through our New PayPal Account

Check out the MNBL Alumni page on Facebook.Com !
Order Your Favorite MNBL Team Sportswear !

Click Team Link below.
To order your MNBL Bullets Team Sportswear
Click Link Below :
To order your MNBL Celtics Team Sportswear
Click Link Below :
To order your MNBL Hawks Team Sportswear
Click Link Below:
To order your MNBL Kings Team Sportswear
Click Link Below :
To order your MNBL Lakers Team Sportswear
Click Link Below :
To order your MNBL Pistons Team Sportswear
Click Link Below :
To order your MNBL Sixers Team Sportswear
Click Link Below :
To order your MNBL Sonics Team Sportswear
Click Link Below :
To order your Malden Neighborhood Basketball League Sportswear